Hi All,
I've got a 1992 Celica ST185 Jap Import ... I just bought the car recently, knowing it had a few problems.
One of the problems that I encountered is the common/known issue with Leaking Capacitors in the Gen 5 ST185 ECU's.
I've since repaired the ECU, see Thread:
http://www.gt4dc.co.uk/forum/viewtopic.php?f=13&t=7566
The engine is starting and idling poorly/unevenly especially when cold. When the accelerator is pressed, the response from the Engine is poor. I think that I may have a possible faulty AirFlow Meter. The Max. RPM I can get out of the engine is about 6500 rpm.
If the accelerator is pressed to the floor, it could take the engine another 2-4 seconds to reach 6500 rpm.
On the road, the car is un-drivable, similar response, press the pedal and it takes ages to get anywhere.
I've decided to test the AirFlow Meter ... I have a PDF copy of the "1990 ST185 Engine-Body-Chassis Repair Manual (RM176U)"
Below, the manual displays the Resistance (in Ohms) across Air Flow Meter terminals E2 and VS .....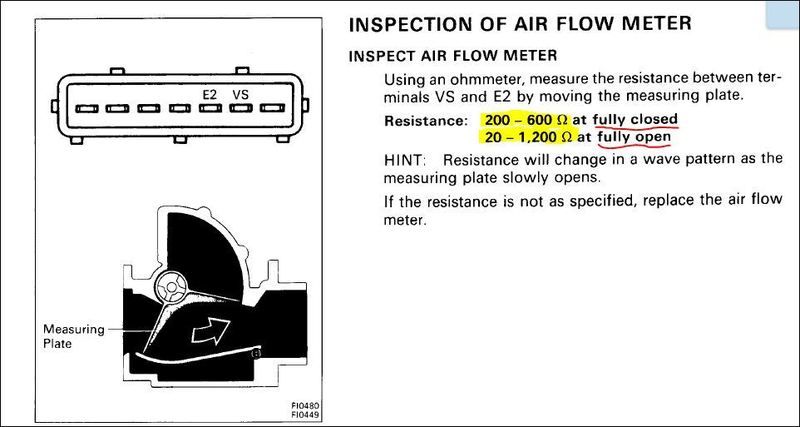 Here are the Resistance Readings that I have measured on my Air Flow Meter:
Fully Closed = 268 ohms
Fully Opened = 55 ohms
With the Multi-Meter still connected to terminals E2 and VS, and I slowly open from closed (towards fully open) the measuring plate inside the AirFlow Meter, I notice that the resistance increases from 55 ohms ---> 548 ---> 215 ---> 550 ---> 230 ---> 562 ---> 233 ---> 543 ---> 55 ohms. So, as the measuring plate is fully opened from fully closed, the resistance varies in a waveform pattern from 230 ohms to 550 ohms several times.
Is this normal? I would have expected a linear resistance change (linear increase) when the measuring plate is moved from the fully closed position to the fully open position.
What other ways can I test that the AirFlow Meter is functionally correctly or not. Perhaps I'm barking up the wrong tree here, maybe the AIr Flow Meter is OK and perhaps the TPS Throttle Position Sensor on the inlet manifold is the problem.
Any help or advise is greatly appreciated.
Thanks.